Feeling the spicy taste of rocket leaves mixed with the fatty taste of smoked salmon, of soft butter mixed with a little sourness of orange sauce, vinegar in smoked salmon salad, rocket leaves will awaken the senses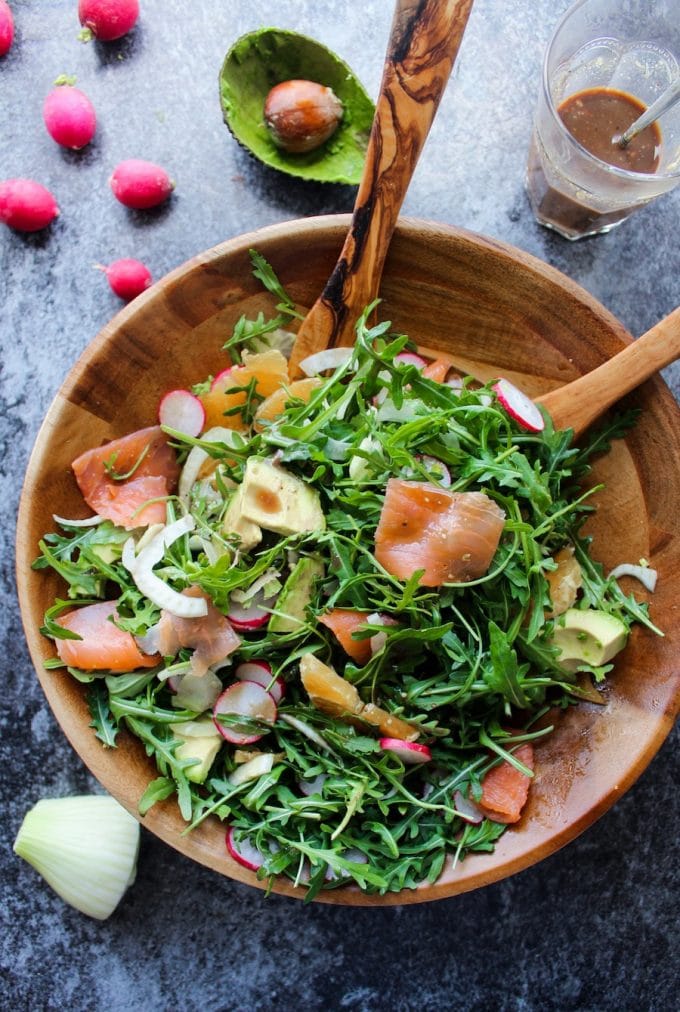 Prepare ingredients (serving 2-4 people)
Mixed vegetable

760 grams of Arugula (fresh Rocket leaves)
1 fresh aniseed bud: cut/grated to medium thin
100 grams smoked salmon: thinly sliced
1 fresh avocado: chopped
1 sweet orange peeled and sliced ​​medium
95 grams of thinly sliced ​​beetroot
95 grams of chopped cucumber

Sauce

2 tablespoons freshly squeezed orange juice (about 30-35ml)*
1 tablespoon balsamic vinegar (about 15ml)*
½ teaspoon dijon yellow mustard (about 7.5ml)
½ teaspoon honey (about 2.5ml)*
A pinch of black pepper
*: You can increase or decrease the dose to suit your own taste. Reduce the amount of balsamic vinegar to ½ teaspoon, increase the amount of honey to 1 teaspoon and the amount of orange juice to 3 tablespoons.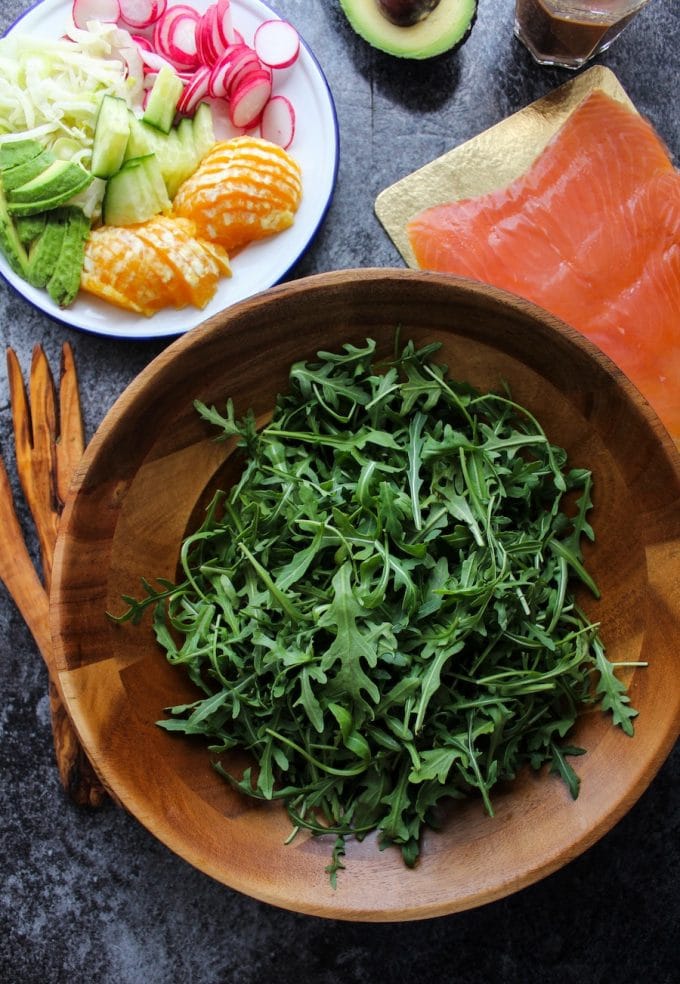 + Vinegar part:
Put all the ingredients in the sauce preparation into a glass bowl and then use a whisk (whisker) to beat the mixture. Or use a small medium-sized glass jar with a tight-fitting lid and shake the mixture until dissolved. Place the vinegar mixture in the refrigerator before using.
+ Mixed vegetables:
To make this salad, the simplest thing is to mix all the prepared ingredients into a large salad bowl, then pour the accompanying sauce on top, mix gently to absorb the sauce with the fresh vegetables. . Use immediately after mixing.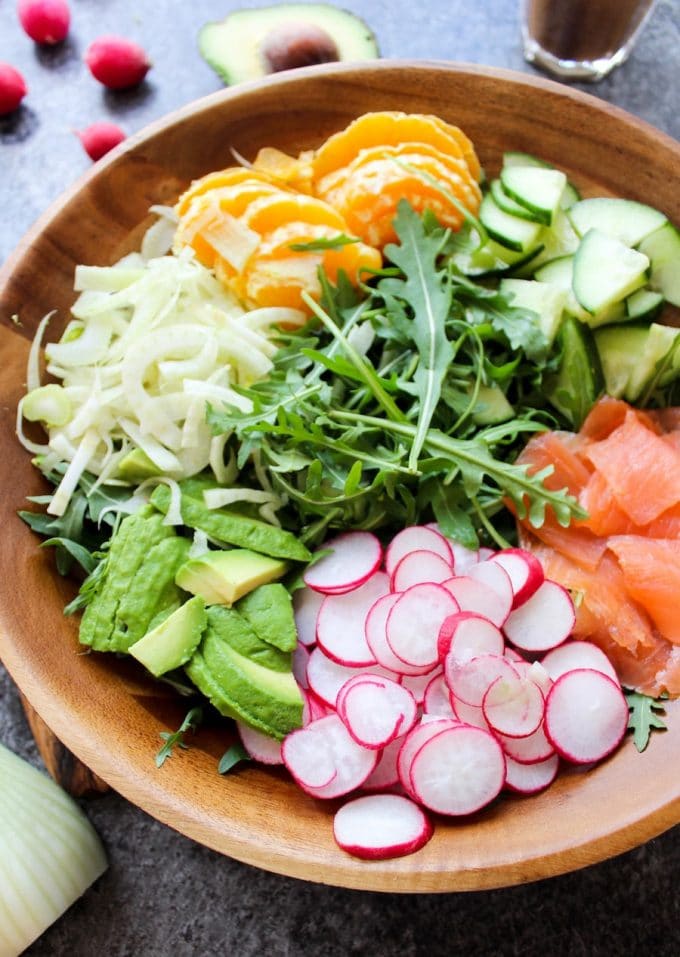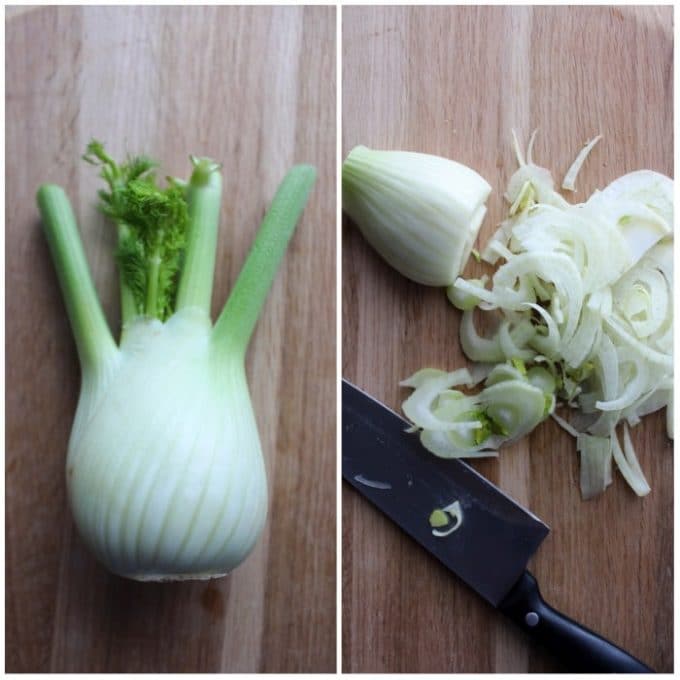 Nutrition Facts (theo MyFitnessPal): Serving size: 1/2 of salad
| | | | | | | |
| --- | --- | --- | --- | --- | --- | --- |
| Calories: 301 | Fat: 15g | Saturated fat: 3g | Carbohydrates: 29g | Sugar: 16g | Fiber: 11g | Protein: 16g |
(Nguồn: asaucykitchen)